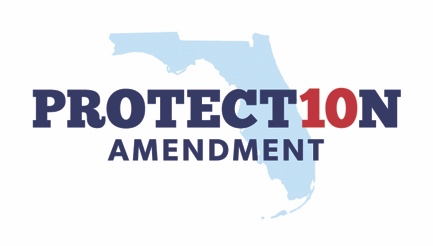 September 12, 2018
For Immediate Release
For more information:
Nanette Schimpf, APR, CPRC
(850) 528-2639 (cell)
nanettes@themooreagency.com
Florida's Elected Constitutional Officers Launch Amendment 10 Initiative
Tallahassee, Fla. –Today, Florida's Sheriffs, Tax Collectors, Clerks of the Circuit Court, Property Appraisers, and amendment sponsors gathered at the Capitol to launch a statewide education initiative about Amendment 10, the Protection Amendment. The amendment safeguards the interests of Floridians by protecting our right to vote, our families, our tax dollars, and our veterans. Amendment 10 keeps, and in some cases returns, the power into the hands of the people.
Law enforcement, families, veterans, and citizens statewide celebrated last week's Supreme Court ruling that Amendment 10 will officially be on the ballot this election by launching a statewide education initiative. Amendment 10 protects our right to vote by ensuring all five constitutional officers (sheriff, tax collector, property appraiser, supervisor of election, and clerk of court) are elected by the people they serve. The amendment also protects our families through the creation of the Office of Domestic Security and Counterterrorism, protects our tax dollars by improving state budgeting timelines, and protects our veterans by preserving the structure and governance of the Florida Department of Veterans' Affairs.
"Amendment 10 is significant because it places in our State Constitution a citizen's right to choose their constitutional officers, including their Sheriff," said Florida Sheriffs Association President Columbia County Sheriff Mark Hunter. "The people of each county should be given the opportunity to elect and set the tone for how law enforcement and other constitutional officer duties should be conducted. I am also a Veteran, I know the important role of the Florida Department of Veterans' Affairs. Amendment 10 protects veterans by preserving Florida's Department of Veterans' Affairs, so our heroes have peace of mind in knowing we will take care of them after their service to our country."
Martin County Clerk of the Court Carolyn Timmann explained, "This amendment truly is about directly asking Floridians if they want to protect their right to vote for officials who provide essential state services and protect their tax dollars at the local level. There is no hidden agenda and no misleading language. Amendment 10 maintains the framework and checks and balances of our state constitution; guaranteeing Florida voters have total control of the accountability and efficiency of these government operations. Additionally, it ensures that our Florida Department of Law Enforcement has full support to lead our domestic security and counter terrorism efforts and provides for collaboration between all law enforcement agencies that work tirelessly to protect our families and businesses. Amendment 10 also honors the permanent sacrifices our Veterans and their families made, earning them a permanent place in our Florida Constitution."
"Direct accountability between county officials and the citizens they serve is lost when offices are abolished or appointed by another governing body," said Lee County Tax Collector Larry Hart. "In counties where the office of tax collector has been abolished, the person or department responsible for statutory Tax Collector duties report to a mayor or board of county commissioners instead of directly to the people they serve. The absence of direct representation can lead to lack of transparency, accountability, and responsibility of constitutional officers to the people they serve."
This statewide group of constitutional officers is holding a press conference in Tampa, West Palm Beach and Orlando in the next several days.
The event was streamed via Facebook Live on the Florida Sheriffs Association Facebook page; you have permission to use this footage and audio: https://m.facebook.com/story.php?story_fbid=2215972945306881&id=118170508227375
# # #
The purpose of Amendment 10, which is also called the Protection Amendment, is to improve state and local government by protecting our right to vote, protecting our families, protecting our tax dollars, and protecting our veterans. It returns the power to voters to determine who will serve as their sheriff, clerk of the court, property appraiser, tax collector, and supervisor of elections. For more information about Amendment 10, visit www.amendment10.org.